A clean facility is a productive and safe facility. It takes preventive cleaning and maintenance to avoid costly downtime. We clean and maintain your facility and equipment around your schedule, not ours, and operate during the off-peak hours so you can maintain maximum productivity.
Industries we serve
Commercial Offices
Small or large, we have the means to take care of them.
Medical Facilities
Unique and important skills are required from your maintenance team, we understand.
Schools
A clean building is essential to the health and education of its students, faculty and staff. We don't miss a beat!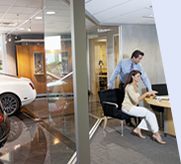 Auto dealerships
Being on constant display requires consistent results and detailed attention to every area.
Manufacturing & distribution
Trust us to care for special custodial needs from constant movement of people, materials, and machines.
Banks
We've been cleaning banks for many years and understand your needs for security and care.
Daycare
Often a microcosm of germs, we ensure disinfection and cleanliness of every surface.
Churches
Sacred spaces deserve special care and attention. We help manage your unique cleaning needs.
The entire WBM team is focused on customer service and customization to meet the unique needs of every client. Give us a call and we'll make sure to take care of your specific need.